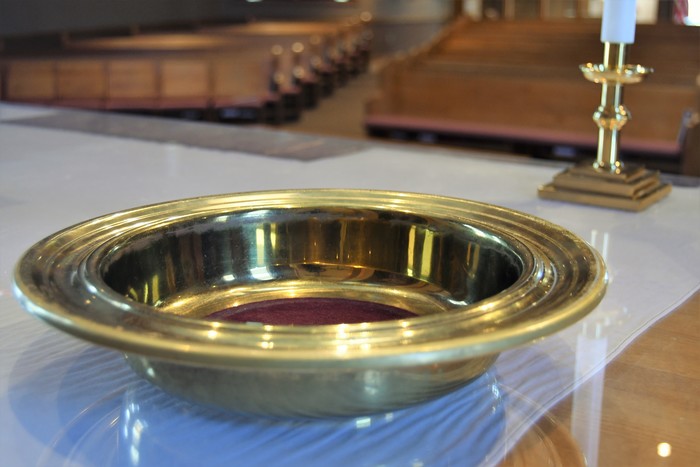 Giving more like Jesus . . . That's our prayer and our goal here at Light of Christ. We seek to give as Jesus gives -- freely, fully, generously, and joyously. We believe that the Holy Spirit is at work to make us a more and more generous people with our time, talent, and treasure. In a culture that often worships at the altar of greed we strive to live out a way of life that is centered in Jesus' own generosity. We seek to give as Jesus gives not only for our own transformation but for the transformation of others. By our giving we seek to make an eternal difference not only in our own lives but in the lives of others. We have choices. What we focus upon matters. Where we place our attention and energies impacts us and the people around us. Where we're looking affects where we go.
Online Giving Options
We currently use Vanco Payment Solutions to process our online contributions. We use this site to manage our registration fees as well. If you are registering for a Children & Youth Ministry such as Pathfinders, Voyagers, or Confirmation, or paying for Slice, please click above on Click here to Give and designate your payment as registration by finding the correct tile. You can also download the Vanco Mobile app and search for Light of Christ Lutheran Church-Delano to make a contribution or pay registration fees from the palm of your hand. Thank you!
Stewardship Campaign for 2024 - Let us build...
Let Us Build....
As the church we are always in the process of building something...of growing. As the church we seek to build our faith, deepen our relationships, find inspiration in our connection with God, find strength for daily life. Here at Light of Christ we are under the banner for theme that comes from that great hymn, "Let us build a house where love can dwell."

For us to build a house where love can dwell, or faith grows, where relationships deepen, where connections are made, where lives are blessed, it takes all of us! Over these next few weeks, we are highlighting a few of the ways that we experience building blocks of our foundation, of our faith. One of those is worship and music. Not just here at Light of Christ, but throughout our lives, we experience moments and stories and experiences in and through our times in worship that truly make a difference, that are foundational for our lives.

In these weeks, we invite everyone to help us build. For we are truly continuing to build this community of Faith, this house, this church of love. Each week will feature a large banner in the narthex gathering area. On that banner you are invited to write something about a moment that has built your faith. There are cards that will serve as our stones as together we build. Each Sunday in worship we will have an opportunity to write down a special moment that corresponds with one of the four important areas of our church, of our ministry.

Our prayer is that as a church we will grow in our inspiration and in our commitment to continue to build, to invest, to love, to strengthen this church, our community of faith. In the mail you will receive a letter and pledge card in which we invite you to make a financial commitment to support the foundational building blocks of our ministry for 2024. Yes, we are blessed to be a blessing!
What is or has been a special moment for you? In what way has worship or music made a difference in your life? What is that part of the service that really connects with you? What is a special hymn, song, or verse that is meaningful to you? What makes a real difference to you?

This week you are invited to fill out a special paper Stone or building block card and submit it in the offering plate, or place it into the basket in the narthex. Over the coming weeks we will create four large expressions of our foundation as a church. This week's focus is worship and music. Thanks for sharing what is important to you!

Click here to read all of the beautiful memories and experiences of our Light of Christ family.
Let Us Build...a house where love can dwell. This is central to what the church is about. Building faith; building community and relationships; building compassion and courage; building love. In fact, all of our ministries are ultimately driven by this calling to build or to build up. Each of you are partners in this building endeavor. You have a role, a contribution, an integral place in this mission. Or, as St. Paul says, each of us are "living stones" as we build together.

The foundations to this building, to our church, are many. This week we consider together PASTORAL PRESENCE. While we most certainly think about someone who is "a pastor," and their duties being "pastoral," it's actually a term which can be applied to many, even most followers of Christ. One definition puts it this way: To be "pastoral" is to be tough and tender, courageous and comforting. And when we think about the word "presence," well we likely think about those moments or experiences where that Pastoral Presence of another person, yes, or of a pastor, has made a big difference in our lives.

In week 1, we considered the importance of those moments of WORSHIP that impact our faith. Those songs or hymns or MUSIC that speak to us or invite us more deeply into the Spirit. You are invited to add to the banner in the Narthex by filling out a "stone" with a special moment or remembrance or time that has made a difference to you. Also, take some time to read what other LOC folks have shared. And click here to see some video testimony.

Please click here to read the experiences of PASTORAL PRESENCE that were shared last week. The "living stones" are also on the special banner located in the Narthex.

This is all intended by our Stewardship Ministry to help us see some of the breadth and depth of what it is to be the church together, and to invite each and every home to make a financial pledge for 2024 ministry. Pledge cards and a letter from Pastor Bruce have been mailed. And extra pledge cards are available in the narthex or church office. All are invited to return pledge cards on Sunday, October 15th. After all, our God-given resources are central to how much ministry we can do together, how far we can extend Christ's light, how many we might reach with the Gospel of Jesus. We invite your reflection on each week's foundational building blocks as you consider a generous pledge.

Your own presence here, your generosity, your involvement, your compassion and faith are all impactful as we are each living stones who are together making this a house where love can dwell.
Let Us Build a House...where love can dwell. This week we consider the importance of our space, our building, this physical place which is "The Lord's House." St. Paul speaks of us as "living stones being built up into a spiritual house." And while that happens in a variety of ways, it most certainly happens here in a physical house -- the Lord's House -- this place we call Light of Christ.

What is it about a space that makes it sacred for you? Do you feel connected because it's where you worship? Where you learn? Where relationships are formed? Where you serve? Where you belong?

How have you helped to care for this Lord's House? Or another church in your life's journey? Perhaps you actually helped to build the physical structure, the building, of Light of Christ in the early years. Maybe you have helped or served on the Property Team/Committee. Perhaps you find joy in creating banners, in painting, in cleaning, in watering plants, in setting up for outdoor worship, in cooking or serving a funeral lunch or for our spaghetti dinner. Maybe you've got a favorite place that rests your soul as you come here to worship, even a pew that almost has your name on it. Perhaps your own house becomes "the Lord's House" as you connect via livestream with Light of Christ's "House." The two become integrally connected for you. Maybe you see this as a "Center for Mission," the Lord's work being encouraged and accomplished here.

And just as a solid foundation is necessary for a stable building, "The Lord's House" serves as a foundational pillar for community outreach and mission work. It is from this spiritual foundation that outreach efforts are launched, impacting lives, our surrounding community, and this world God so loves.

Add your stone or message to other's experiences of the Lord's House. Write them onto the paper stones provided. Place into the offering plate. Drop one or more at the church office. We'll get them all up onto this week's special banner.

Generous resources not only ensure that our many ministries are vibrant and strong, but it takes a significant financial commitment to see to it that the Lord's House, our LOC facilities and property, is well-cared for.

Each one of our households, each and every one of us, are encouraged to prioritize giving for the sake of Christ's mission here at Light of Christ. Please translate that onto a Pledge Card and bring it or mail it by our Celebration Sunday, October 15th.

You are a blessing, a living stone, here among us as we all have a place of belonging in the Lord's House at Light of Christ! Click here to view the video that was played during worship on Oct. 8 highlighting the "space" that is Light of Christ.
Let Us [Continue to] Build...a vibrant, welcoming, and purposeful Children, Youth & Family Ministry. Light of Christ has always been a place that recognizes CYF Ministry to be a cornerstone of who we are. Jesus said, "Let the children come to me...", and that's just what we seek to do. It is our calling and our joy to do everything we can to create a safe, nurturing, empowering place of faith for our kids and families. All of this takes a significant commitment of our time, treasure and talents. We have a stretch in front of us. Will you help us in meeting these important ministry goals? Can you join in the endeavor to increase our resources/giving so that we can build on this foundation? Will you help us to connect even more kids and families? Might you make a pledge for this ministry we all share?

A dollar a day more. For each of our households. That's what we've identified that will have our resources meet our ministry needs. And yet, for some of us, a larger gift or pledge is possible. Might you pray about where the Spirit leads you? Might you step out in stretching your faith? Together we can position ourselves for this next important chapter of LOC's ministry as we celebrate and experience all of what God is blessing us with.

What is your special moment or memory or experience? Where has our or another faith community's children, youth and family ministry blessed you? How has your faith been shaped because of CYF's priority within a church's ministry? How or where have you experienced this as a living stone or building block of your faith? Share this on a paper "stone" so that we can add it to our banner in the narthex. Together we invite God to use us as the Spirit builds a house where love can dwell!

----------------------

Together we are on an amazing journey of seeing how God uses us as living stones, being made into a spiritual house of faith, hope and love. While we each enjoy the blessings of our church, many do not have a place of belonging, a church community where they can experience the hope of the Gospel, a place to grow in their own faith, a mission to be a part of, a church family of their own. Help us to grow this cherished ministry by making a financial pledge for 2024 mission and ministry. You will be blessed as you are a blessing! Making a pledge will help us to plan for next year's ministry.

------------------------
Banners
Please take time to read the comments and memories of our church family on the banners hanging in the narthex. And add more as you might like!
At Least a Dollar a Day More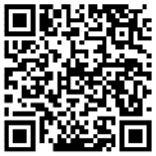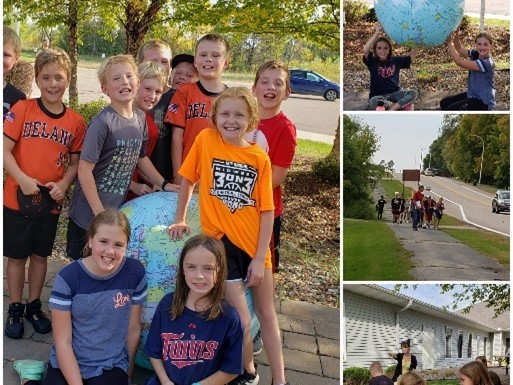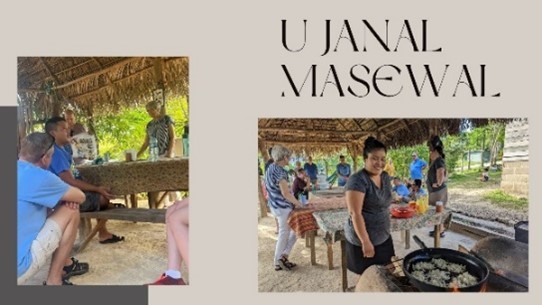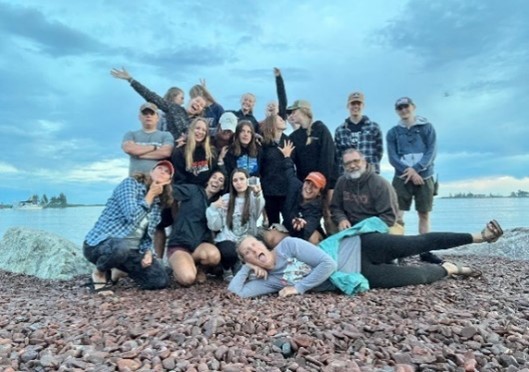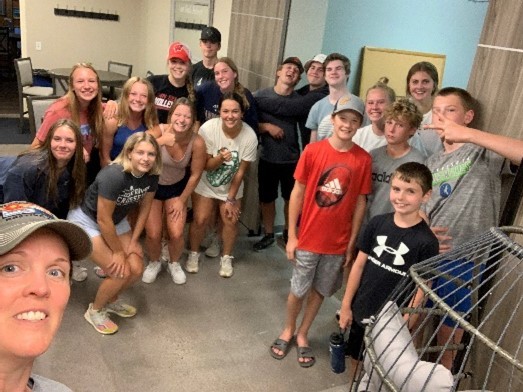 Click here for a brief video highlighting our "At Least a Dollar a Day More" appeal.
Click here to view our "At Least a Dollar a Day More" brochure.